Dr. Kaarin Anstey, Ph.D.​, University of New South Wales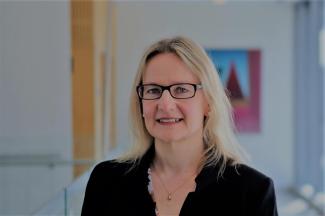 ARC Laureate Professor Kaarin Anstey is Director of the University of New South Wales Ageing Futures Institute, and a Senior Principal Research Scientist at Neuroscience Research Australia. Anstey also co-Directs the Australian Dementia Centre for Research Collaboration and is Chair of the International Research Network on Dementia Prevention.  Anstey's research programs focus on the causes, consequences and prevention of cognitive ageing, dementia, and common mental disorders in adulthood. She also leads the PATH Through Life project which is a population-based study of young, middle-aged and older adults who have been followed for 20 years focusing on risk factors for cognitive decline and dementia. Anstey is an investigator on several multi-domain risk reduction trials. She led the Body Brain Life project in Primary care, and is a co-investigator on the Mind Your Brain Trial and the soon to commence AU Arrow trial which is funded by the Australia Medical Research Future Fund and the US Alzheimer's Association.  Anstey is a member of the Governance Committee of the Global Council on Brain Health and was a member of the WHO Guideline Development Committee for the guidelines on risk reduction for cognitive decline and dementia.
Dr. Shelina Babul, Ph.D., University of British Columbia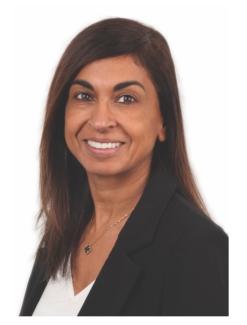 Dr. Shelina Babul is the Associate Director and Sports Injury Specialist with the BC Injury Research and Prevention Unit, BC Children's Hospital. She focuses primarily on sport and recreational evidence-based research and knowledge implementation, with a particular specialization in concussions/traumatic brain injuries (TBI) and their prevention, recognition, treatment and management. She is the Director of BC Children's Hospital Canadian Hospitals Injury Reporting and Prevention Program (CHIRPP), a Clinical Associate Professor in the Department of Pediatrics, UBC; an Investigator with the BC Children's Hospital Research Institute and the Djavad Mowafaghian Centre for Brain Health, UBC. She is the chair and/or committee and board member on numerous provincial and national injury and concussion advisory committees. She was recently nominated for the 2020 Doctors of BC Excellence in Health Promotion Award and was also a nominee for the 2019 YWCA Women of Distinction Award. She received the safety and service recognition awards by BC Hockey and the prevention and awareness award by the Brain Injury Association of Canada. Dr. Babul's area of focus include: 1) Identifying and addressing critical gaps in injury prevention; 2) TBI/Concussion-specific research and related strategies to promote uptake of proven and effective interventions; and 3) Coordination of TBI/concussion efforts locally, provincially and nationally. She developed the Concussion Awareness Training Tool (CATT) with the aim to increase knowledge around the recognition, diagnosis, treatment and management of concussions. Dr. Babul is very passionate about her work which has reached provincial and national recognition. Internationally, her work has expanded to Japan, Lebanon and East Africa, namely Uganda, Nairobi and Tanzania. Her experience in this field includes the publication of numerous chapters and peerreviewed papers, presentations at numerous provincial/national/international conferences, membership on committees/review boards, and interviews with provincial/national/international news media and magazines.
Dr. Deborah Barnes, MPH, Ph.D., University of California San Francisco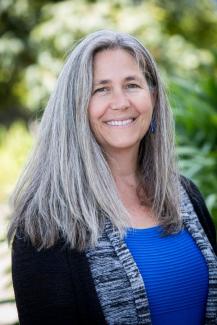 Dr. Deborah Barnes is a Professor of Psychiatry and Behavioral Sciences and Epidemiology & Biostatistics at the University of California, San Francisco, and a Research Health Science Specialist with the San Francisco Veterans Affairs Health Care System. Dr. Barnes has published more than 115 peer-reviewed articles, including many high-impact journals, and has received funding from the National Institutes of Health, Department of Veterans Affairs, Department of Defense, and Alzheimer's Association, among others. Her research focuses on 1) identifying modifiable risk factors for cognitive impairment and dementia in older adults; 2) developing risk prediction models to identify those at greatest risk and to forecast the impact of risk reduction strategies; and 3) testing non-pharmacological interventions to delay onset and slow progression of symptoms and to maximize quality of life.   
Dr. Olivier Beauchet, MD, Ph.D., University de Montréal
Dr. Beauchet holds a MD degree from the University of St-Etienne University (1999) and completed a specialty in Neurology and Internal Medicine and Geriatrics at St-Etienne University (France). In parallel, he holds a Master of Science in neuropsychology and a PhD in Human Motricity and handicap in the same university. From 2015 to 2020, he was Professor at McGill University and the holder of the Dr. Joseph Kaufmann Chair in Geriatric Medicine (Faculty of Medicine, McGill University, Montreal, Quebec, Canada). He was also the director of Centre of Excellence on Longevity of the integrated university health and social services network (RUISSS) McGill (Quebec, Canada). Since September 2020, he is a professor at University of Montreal and adjunct professor in the Department of Medicine of McGill University. He practices medicine in the Department of Geriatric of the Geriatric University institute of Montreal. He is also the director of the research lab "Vulnerability & longevity" at the Research Center of the Geriatric University institute of Montreal and continues to be a senior research at the Lady Davis Institut for medical research of McGill University. Over the past 5 years, Dr. Beauchet developed a research program on "Art & Longevity" focusing on the effects of Art activities, carried out at the museum, on health and social conditions of older community dwellers.
Dr. Sylvie Belleville, Ph.D., University de Montréal
Sylvie Belleville is Full professor at the Psychology Department of the University of Montreal and a researcher at the Research Center of the Institut Universitaire de Gériatrie de Montréal. She is recognized for her work in the area of cognitive training for older adults and persons at risk of dementia and on the prevention of age-related cognitive decline. She identified processes of compensation and plasticity in mild cognitive impairment using brain imaging techniques. She also developed an important research program on the neuropsychology of memory in aging and dementia and has contributed to a better understanding of the neuropsychological deficits found in persons with very early signs of Alzheimer's disease or mild cognitive impairment. She developed a cohort of well-characterized older adults with suspected prodromal Alzheimer's disease. She published 242 peer-reviewed articles. She currently receives more than $9,5 million in funding as a PI and holds a Tier 1 Canada Research Chair on the Cognitive Neuroscience of Aging and Brain Plasticity. She created and leads the Québec Consortium Québécois for early identification of Alzheimer's disease (CIMA-Q) and the national team "Cognitive Intervention, Cognitive Reserve and Brain Plasticity" and "Brain Health Support Program" for the Canadian Consortium on Neurodegeneration in Aging. She received the Adrien Pinard Prize of the Quebec Psychology Research Society (SQRP) and Professional Prize of the Quebec Psychologist Association (OPQ) in recognition of her contribution. She is also a member of the prestigious Canadian Academy of Health Sciences.
Dr. Kirsten Berding, RD, Ph.D., University College Cork
Dr. Kirsten Berding is a post-doctoral researcher at the APC Microbiome Ireland (at the University College Cork) in Cork, Ireland, working with Profs. John Cryan and Ted Dinan. Dr. Berding holds a PhD in Nutritional Sciences from the University of Illinois at Urbana-Champaign. As a Registered Dietitian, her research interest focuses on how diet can modulate the gut microbiome-health interaction, specifically mental health, as well as cognitive function. Dr. Berding was awarded an Irish Research Postdoctoral Fellowship to investigate the potential of a microbiota-targeted dietary intervention to impact mental well-being.
Dr. Louis Bherer, M.Ps., Ph.D., University de Montréal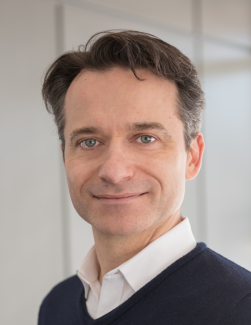 Louis Bherer is full professor at the Department of Medicine at University de Montréal and associate scientific director of Prevention at the Montréal Heart Institute in Montréal, Canada. He is also lab director at the Institut universitaire de gériatrie de Montréal. Bherer completed a Master's degree in Cognitive Psychology (Université Laval), a PhD in Neuropsychology (Université de Montréal) and a post-doc in Aging and Neurosciences at the Beckman Institute for Advanced Science and Technology (University of Illinois at Urbana-Champaign, USA). Before 2012, Dr. Bherer held the CIHR Canada Research Chair on Aging and the Prevention of Cognitive Decline at the University of Quebec at Montreal (UQAM). From 2012 to 2016, he served as the inaugural Scientific Director of the PERFORM Centre at Concordia University in Montreal. His research program studies the effect of cognitive stimulation, physical activity and exercise on cognition and cognitive decline associated with aging and chronic diseases.
Dr. Michael Brauer, Sc.D., University of British Columbia
Michael Brauer is a Professor in the School of Population and Public Health at The University of British Columbia and a Principal Research Scientist and Affiliate Professor at the Institute for Health Metrics and Evaluation at the University of Washington, where he leads the Environmental Risk Factors team for the Global Burden of Disease.  His research focuses on linkages between the built environment and human health, with specific interest in the global health impacts of air pollution, the relationships between multiple exposures mediated by urban form and population health, and health impacts of a changing climate. He has participated in monitoring and epidemiological studies throughout the world and served on numerous committees, including those advising the World Health Organization, the Climate and Clean Air Coalition, the World Heart Federation, the US National Academies, the Royal Society of Canada, the International Joint Commission and governments in North America and Asia.  His contributions to environmental health have been acknowledged by a number of career achievement and publication awards.
Dr. Stephen Cunnane, Ph.D., Université de Sherbrooke
Stephen Cunnane is a full professor in the department of Medicine, Université de Sherbrooke, and researcher at the Research Center on Aging. His team uses quantitative PET imaging in clinical trials assessing the links between brain energy metabolism and cognition during aging. They were the first to show that despite markedly deteriorating brain glucose metabolism, the Alzheimer brain can still take up ketones normally and that ketones can bypass or correct the energy deficit in older people at risk of Alzheimer's disease. These two novel observations led to Cunnane's concept of 'brain energy rescue' by ketones to treat neurodegenerative disorders, the subject of his recent review in Nature Reviews Drug Discovery. In a recent 6-month RCT, his ketogenic medium chain triglyceride drink improved outcomes in 4/5 cognitive domains in mild cognitive impairment, the early stage of Alzheimer's disease. It is the first product to demonstrate efficacy in mild cognitive impairment and was commercialized by Nestlé in 2020. Dr. Cunnane has published over 300 research papers and five books, two of which highlight the key role of ketones in infant brain development as underpinning human brain evolution. He was elected to the French National Academy of Medicine in 2009. In 2016, he was honored as a Fellow of the International Society for the Study of Fatty Acids and Lipids (ISSFAL). He received the Chevreul Medal from the French Society for the Study of Lipids in 2017 for his research on fats, nutrition and health.
Dr. Payam Dadvand, M.D., Ph.D., Barcelona Institute for Global Health
Payam Dadvand is a medical doctor by training and has a PhD in environmental epidemiology. For the last decade he has conducted pioneering studies on the impacts of both environmental stressors (e.g. air pollution, climate change, and UV) and environmental mitigation measures (e.g. green spaces) on maternal and child health applying his expertise in using remote sensing data, GIS-based spatial analytical methods, and spatiotemporal modelling approaches. He has been involved in several national as well as international/European projects and is currenting co-coordinating the Barcelona Life Study (BiSC) project, among other studies. Dr. Dadvand has authored more than 100 articles in international journals, based on which he was named in the 2020 list of Highly Cited Researchers by Clarivate™(Web of Science). He is currently an editor for the Environmental Pollution.
Dr. Ryan Falck, Ph.D.,University of British Columbia
Ryan Stanley Falck is a postdoctoral fellow at the University of British Columbia in the Aging, Mobility, and Cognitive Neuroscience Laboratory. His research uses a combination of experimental and observational designs to examine how lifestyle factors – such as sleep and physical activity – can help maintain cognitive and brain health in individuals at risk for dementia.
Dr. Brett Finlay, Ph.D., University of British Columbia
Dr. B. Brett Finlay is a Professor in the Michael Smith Laboratories, and the Departments of Biochemistry and Molecular Biology, and Microbiology and Immunology at the University of British Columbia.  He obtained a B.Sc. (Honors) in Biochemistry at the University of Alberta, where he also did his Ph.D. (1986) in Biochemistry under Dr. William Paranchych, studying F-like plasmid conjugation. His post-doctoral studies were performed with Dr. Stanley Falkow at the Department of Medical Microbiology and Immunology at Stanford University School of Medicine, where he studied Salmonella invasion into host cells.  In 1989, he joined UBC as an Assistant Professor in the Biotechnology Laboratory.  Dr. Finlay's research interests are focussed on host-microbe interactions, at the molecular level.  By combining cell biology with microbiology, he has been at the forefront of the field called Cellular Microbiology, making several fundamental discoveries in this area, and publishing over 543 papers (h index=142).  His laboratory studies several pathogenic bacteria, including Salmonella and pathogenic E. coli, and more recently microbiota.  He is well recognized internationally for his work, and has won several prestigious awards including the E.W.R. Steacie Prize, the CSM Fisher Scientific Award, CSM Roche Award, a MRC Scientist, five Howard Hughes International Research Scholar Awards, a CIHR Distinguished Investigator, BC Biotech Innovation Award, the Michael Smith Health Research Prize, the IDSA Squibb award, the Jacob Biely Prize, the prestigious Canadian Killam Health Sciences Prize, the Flavelle Medal of the Royal Society, the Queen Elizabeth II Diamond Jubilee Medal, the Prix Galien, is a Fellow of the Royal Society of Canada and the Canadian Academy of Health Sciences, is a Member of the German National Academy of Sciences, the European Union Academy of Sciences, the American Academy of Microbiology, Chair d'État, Collège de France and is the UBC Peter Wall Distinguished Professor.  He is an Officer of the Order of Canada and Order of British Columbia, and inducted into the Canadian Medical Hall of Fame.  He is a cofounder of Inimex Pharmaceuticals, Inc. and Microbiome Insights, scientific cofounder of Vedanta Pharmaceuticals and CommenSe, Director of the SARS Accelerated Vaccine Initiative, and Founding Director and Senior Fellow of CIFAR's Microbes and Humans.  He is also the co-author of the books Let Them Eat Dirt and The Whole Body Microbiome.
Dr. Paul Gardiner, Ph.D., University of Southern Queensland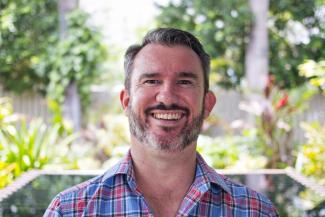 Dr Paul Gardiner is a Senior Lecturer in the School of Health and Wellbeing at the University of Southern Queensland. He has over 15 years of experience in research and evaluation in a variety of environments, including biomedical, drug and alcohol, parenting programs, clinical epidemiology, population health, and gerontology research. He conducted the first behavioural intervention to reduce sitting time in older adults and demonstrated that it was feasible for them to reduce their sitting time. He developed a questionnaire to assess older adults' sitting time which has been used in 10 countries. Recently he has been incorporating citizen science into his research and he is a member of the Our Voice Citizen Science Global Network with members from 17 countries, across six continents. His current research focuses on investigating how behaviours across the 24-hour period, i.e., sitting, moving, and sleeping, are related to age-related declines in cognitive and physical function.
Dr. Art Kramer, Ph.D., Northeastern University
Arthur Kramer is the Director of the Center for Cognitive and Brain Health and professor of Psychology at Northeastern University in Boston.  He previously served as Senior Vice Provost for Research and Graduate Education at Northeastern University.  He also served as the Director of the Beckman Institute for Advanced Science & Technology and the Swanlund Chair and Professor of Psychology and Neuroscience at the University of Illinois.   He received his Ph.D. in Cognitive/Experimental Psychology from the University of Illinois. Professor Kramer's research projects include topics in Aging, Cognitive Psychology, Cognitive Neuroscience, and Human Factors.  A major focus of his labs recent research is the understanding and enhancement of cognitive and neural plasticity across the lifespan.  He is a former Associate Editor of Perception and Psychophysics and is currently a member of six editorial boards. Professor Kramer is also a fellow of the American Psychological Association, American Psychological Society, a former member of the executive committee of the International Society of Attention and Performance, and a recipient of a NIH Ten Year MERIT Award. He has recently served on the Presidents Council of Advisors on Science & Technology (PCAST), the National Academy of Medicine's (NAM) committee on Cognitive Aging, the Chair of the National Academy of Sciences (NAS) workshop on Understanding Pathways to Successful Aging: Behavioral and Social Factors Related to Alzheimer's Disease, the Global Council on Brain Health, and a multitude of other national and international committees.  Professor Kramer's research has been featured in a long list of print, radio and electronic media including the New York Times, Wall Street Journal, Washington Post, Huffingtion Post, Chicago Tribune, CBS Evening News, Today Show, National Public Radio and Saturday Night Live.
Dr. John Leddy, M.D., University at Buffalo
Dr. John J. Leddy is Professor of Clinical Orthopedics and Rehabilitation Sciences at the University at Buffalo Jacobs School of Medicine and Biomedical Sciences, a Fellow of the American College of Sports Medicine, the AMSSM, and of the American College of Physicians, and Director of Outcomes Research for the Department of Orthopaedics. He is a Division 1 team physician and Medical Director of the University at Buffalo Concussion Management Clinic. He is a Member of the Expert Panel for the Berlin Fifth International Consensus Conference on Concussion in Sport and a consultant to the NIH on sport concussion research. In conjunction with Dr. Barry Willer, he developed the Buffalo Concussion Treadmill Test.
Dr. Andrew Lim, M.D., University of Toronto
Dr. Lim is a sleep neurologist at Sunnybrook Health Sciences Centre and associate professor of neurology at the University of Toronto.  He is PI of the Ontario Sleep Health Study, and co-PI of the Canadian Consortium on Neurodegeneration in Aging Sleep Team.  HIs research focuses on understanding the bi-directional links between sleep and circadian disruption and neurodegenerative disorders, and his clinical practice focuses on older adults with and without neurodegenerative diseases who are experiencing sleep and circadian rhythm disturbances.  
Dr. Andrea Rosso, MPH, Ph.D., University of Pittsburgh
Dr. Rosso leads the Brain, Environment, Aging, and Mobility (BEAM) lab. Her research aims to improve mobility of older adults, reducing disability and keeping individuals in their communities. She uses an inter-disciplinary approach to understand how aging, and particularly brain aging, affects an individual's ability to navigate the complex community environments that we experience every day and how community environments shape brain aging. Her research combines advanced methodologies in neuroimaging, gait analysis, neighborhood assessment, and longitudinal epidemiology to determine mechanisms of mobility decline and inform future intervention research.
Dr. Adam Spira, Ph.D., Johns Hopkins University
Adam Spira is Professor and Vice Chair for Research and Faculty in the Department of Mental Health at the Johns Hopkins Bloomberg School of Public Health.  He has a joint appointment in the Department of Psychiatry and Behavioral Sciences at the Johns Hopkins School of Medicine and is core faculty of the Johns Hopkins Center on Aging and Health.  Dr. Spira's training is in clinical psychology and epidemiology and his research focuses on the association of sleep disturbance with cognitive and functional decline and neuroimaging outcomes, with a particular interest in Alzheimer's disease.  He joined the Johns Hopkins faculty in 2008, and in 2009, he received a Career Development Award from the National Institute on Aging (NIA) to investigate the association between sleep disturbance and functional decline in older people. Since then, he has led or co-led several R01-level grants from NIA focused on the association of sleep and/or circadian rhythm disturbance with cognitive decline and neuroimaging outcomes, including Alzheimer's disease biomarkers.
Dr. Naznin Virji-Babul, PT, Ph.D., University of British Columbia
Dr. Virji-Babul is a Neuroscientist and a physical therapist.  She is currently an Associate Professor in the Dept. of Physical Therapy, UBC. Her laboratory is based at the Djavad Mowafaghian Centre for Brain Health.  Her research addresses fundamental aspects of brain-behavior relationships in typical and atypical development.  Over the past decade, she has adopted a cognitive neuroscience framework using a variety of neuroimaging tools, from magnetoencephalography (MEG) and high-density electroencephalography (EEG), to diffusion tensor imaging (DTI) and functional magnetic resonance imaging (fMRI), to unravel and examine the structural and functional brain networks underlying perception and action.  This work has resulted in over 60 peer-reviewed papers in the area of neuroimaging, brain dynamics and perceptual-motor function in typical development, atypical development and in adolescents with concussion/mild traumatic brain injury.
Dr. Michelle Voss, Ph.D., University of Iowa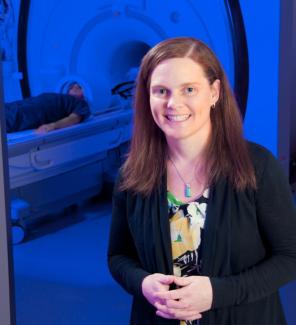 Dr. Michelle Voss (Ph.D., University of Illinois at Urbana-Champaign) is an Associate Professor and Dean's Scholar in the Department of Psychological and Brain Sciences at the University of Iowa, where she was awarded the Early Career Scholar of the Year Award. Research in her lab applies a cognitive neuroscience approach to study how aging affects cognition, and how health behaviors like physical activity both affect and are affected by brain structure and function as we age. She has published over 100 scientific articles that are well-cited, she's an active mentor who values learning the process and increasing diversity in science & academia, and she serves as a regular member on the NIH/NIA Neuroscience of Aging study sections. Outside of the lab she enjoys being outside with family and friends, riding bikes and reading, and volunteering at the Iowa City Bike Library.